Anime is a very popular type of Japanese animation. The shows produced cover every genre that you could think of and mix genres together.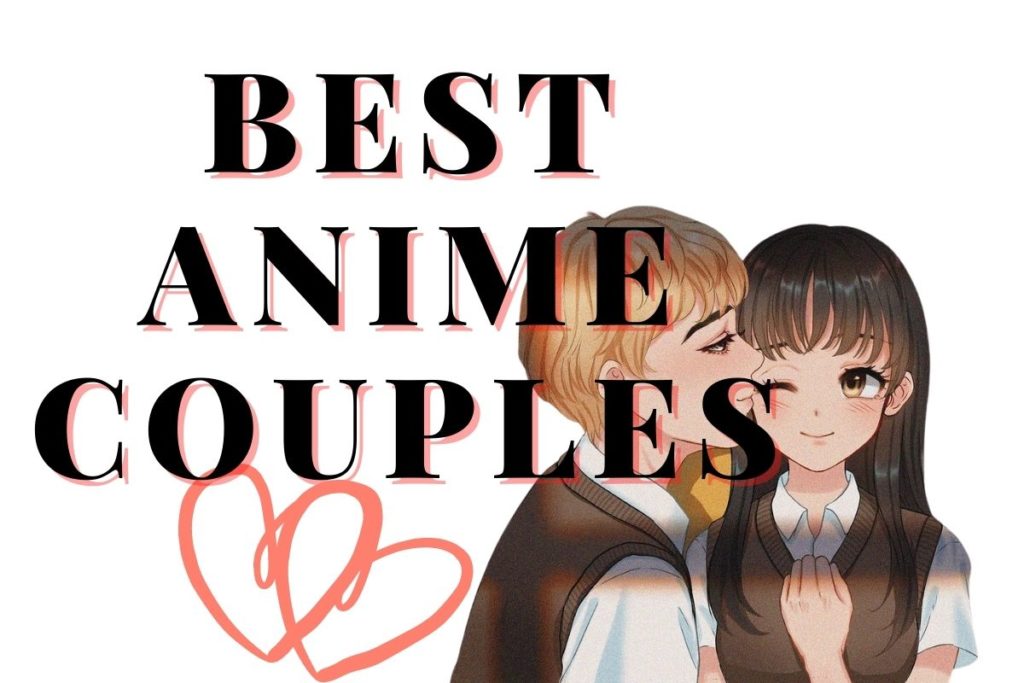 Anime is beloved by its fans for its beautiful animation and engaging stories with complex characters.  
It has to be said that anime knows how to create a good romance in their shows and films, which draw you in. Thus, in most shows, there will be at least two couples that fans enjoy shipping together and watching their love story bloom.
As a result, we have put together the 55 best anime couples that are most popular to watch at the moment. You may know some of these, but there may be a new couple on here to add to your to-be-watched list. 
55. Kaori and Kousei (Your Lie In April)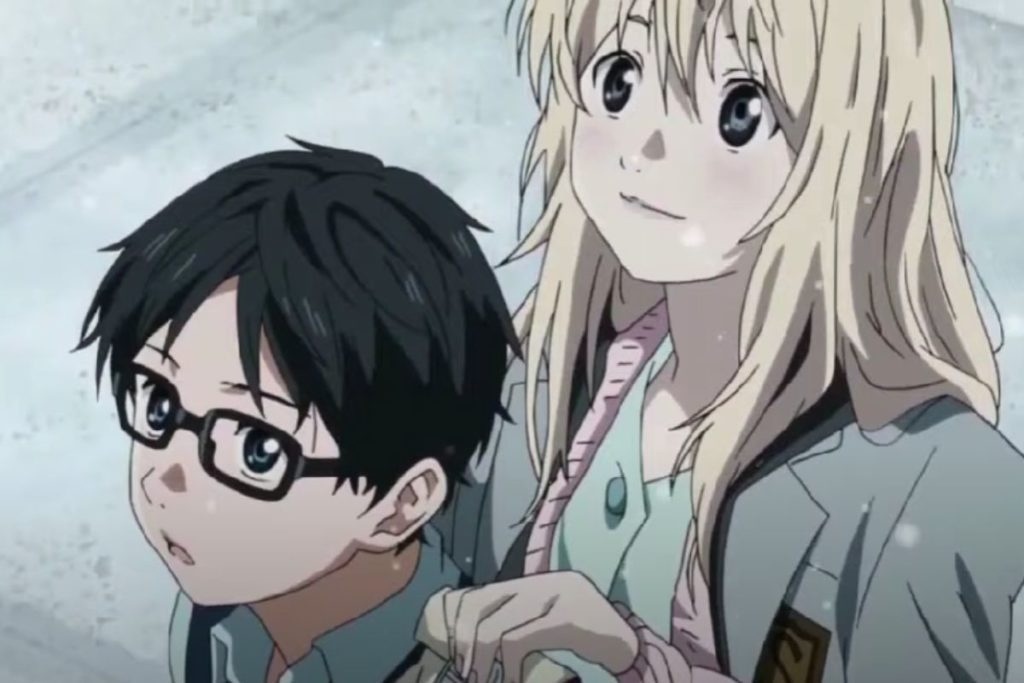 Kaori and Kousei are introduced to us in the anime show, known as Your Lie In April. This couple is known for creating intense and highly emotional moments during the show.
They both have complicated pasts and have their baggage that they carry along with them. Thus making them quite relatable. 
While they spent more time together, Kousei developed feelings for Kaori, however, a huge misunderstanding prevented anything from happening between the pair. Yet, in the end, we learn Kousei's feelings are shared with Kaori.
54. Kyo and Tohru (Fruits Basket)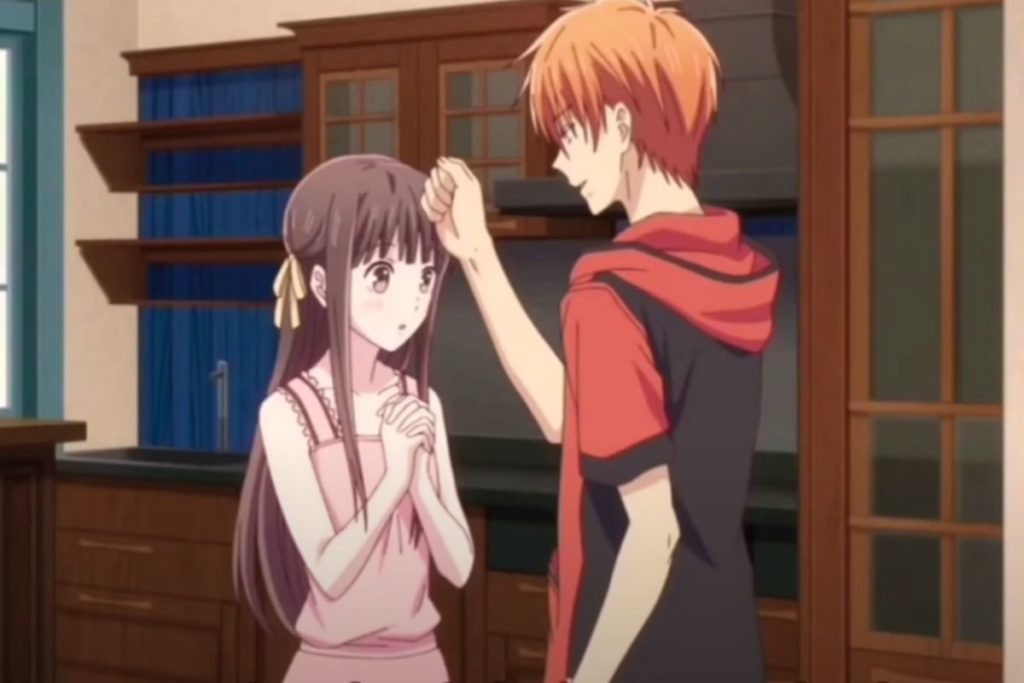 In Fruit Basket, we are introduced to the selfish Tohru and the sensitive yet hot-headed Kyo. In this show, we watch our character learn about the Sohma Clan curse, with some added romance in there. 
Both Yuki and Kyo develop feelings for Tohru, which leads to conflict between the pair. However, eventually, Kyo and Tohru end up in a very loving relationship. Both greatly care for each other and help each other to grow. 
53. Ichigo and Rukia (Bleach)
There is a lot going on in the anime show Bleach. However, there is a subtle romance between Ichigo and Rukia that is seen throughout the show. 
Both characters have similar destinies and experience a lot of pain. However, they keep coming back to one another.
No matter what has happened, these characters will always find their way back to each other. It is clear that they both want each other, but will they end up together?
52. Naruto and Hinata (Naruto/Naruto Shippuuden)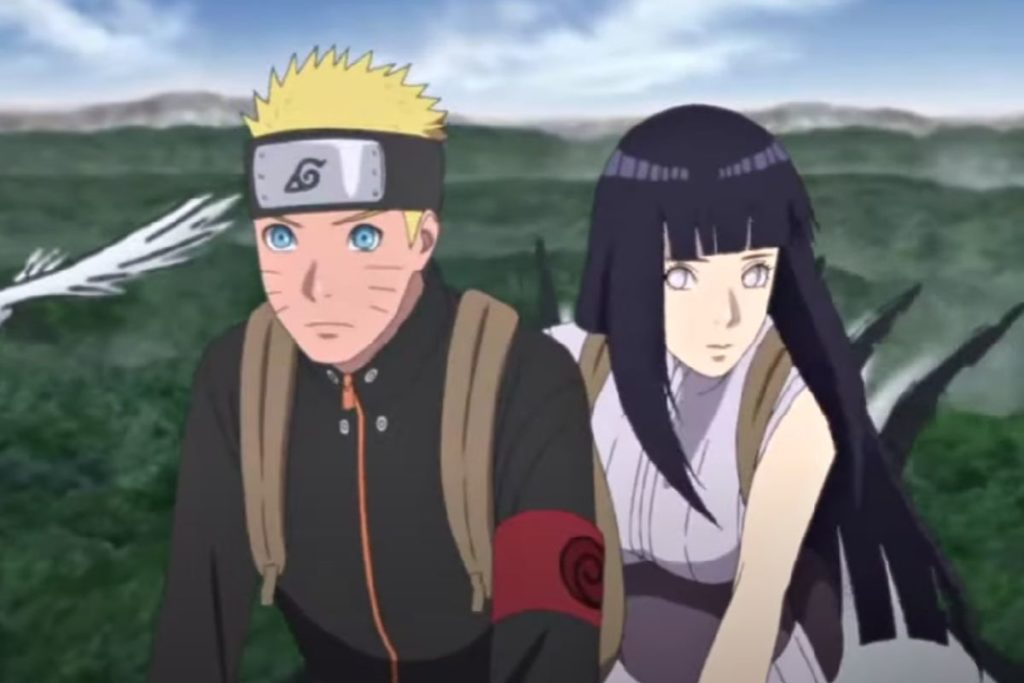 Both the Naruto and Naruto Shippuuden series had lots of action and some loving moments between Naruto and Hinata. This show may have been marketed towards young teenage boys, but that doesn't mean there couldn't be any romance. 
We would class these couples as childhood sweethearts. This is because both of them grew up together. They trained and fought together.
However, any fan of the show will know that Naruto was unaware of Hinata's feelings towards him. Hinata didn't give up on him and eventually caught up.
Naruto's naivety and Hinata's brave acts made for some real romantic moments between this pair. 
51. Haruhi and Tamaki (Ouran HighSchool Host Club)
High school romances are increasingly popular and that is no exception between Haruhi and Tamaki in Ouran HighSchool Host Club.
Haruhi finds herself at a new school, surrounded by wealthy kids. She tries to hide, by putting on a tomboy appearance, yet this still catches the eye of Tamaki. 
Tamaki originally thinks Haruhi is another boy, yet once he learns the truth he begins to become protective of Haruhi. This then leads to a romance blossoming between the pair.
This pair isn't perfect, as they have had misunderstandings and their opinions on certain topics differ. Yet, this does not stop fans of the show, wanting these two to fall deeply in love with each other. 
50. Inuyasha and Kagome (Inuyasha)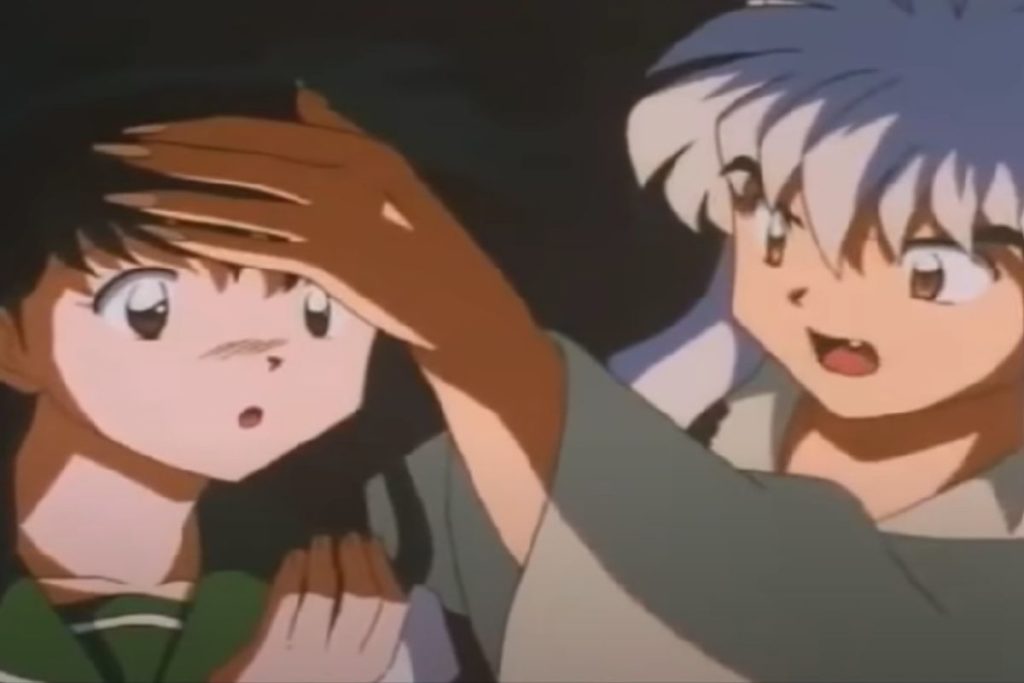 Inuyasha is a half-demon that has major trust issues. Yet, she learns to get past these insecurities and falls in love with Kagome. Inuyasha is very insecure from past failed loves, therefore Kagome has to prove her life for him. 
These two characters have a strong bond that viewers love to watch. It isn't always simple, and at times their relationship is complex, but they are a great couple to watch. 
49. Sawako and Shouta (Kimi ni Todoke)
Shouta is portrayed as the popular boy that every girl wants to be with. Yet from the moment Sawako and Shouta meet, there is instant flirting. We even see a jealous side to Shouta when he sees other boys doing anything for Sawako. 
Fans of this series waited for the moment that this couple would proclaim their feelings for each other. They shared many sweet and shy romantic moments, which is why they have made it onto our list. 
48. Winry and Edward (Fullmetal Alchemist: Brotherhood)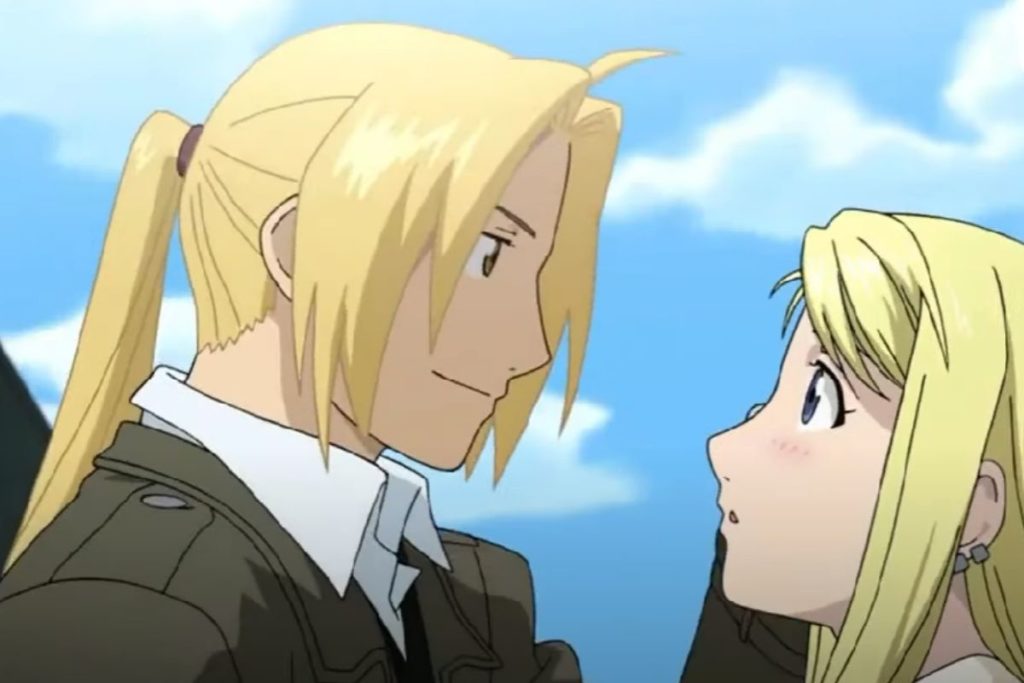 When you think of Fullmetal Alchemist, you may think of the tragic story lines. Yet there is a strong romance element, from childhood sweethearts Winry and Edward. They start off as best friends, which then turns romantic, and become a strong couple. 
Winry is Edward's personal mechanic, who keeps his left leg and right arm in good condition. These characters have gone through a lot with each other. They may argue a lot, but they care and stand by each other. 
A strong romance set alongside a tragic story, what isn't there to love?
47. Misaki and Takumi (Kaichou wa Maid-Sama)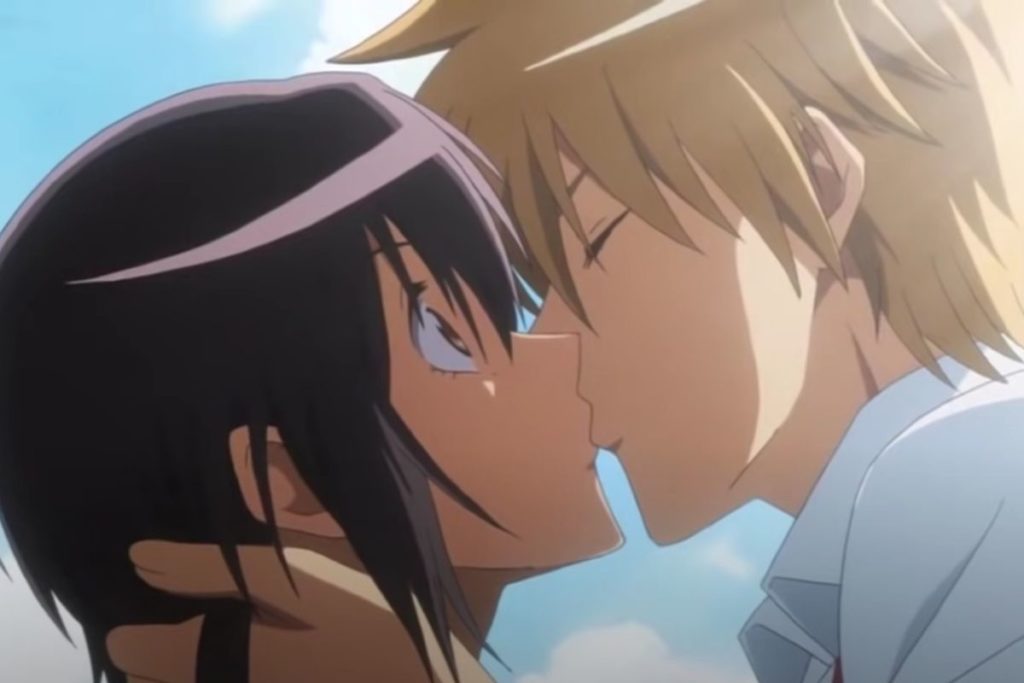 Next up, we have Misaki who doesn't trust men at all, but Takumi sets out to change that. Misaki is a strong character, and you want her to have a happy ending. She works hard, she is either studying or working her job. 
A romance forms between this pair and Takumi, who goes to prove to Misaki that she can trust him. They have a suitable bond, but it is really cute to watch. Also, the tension that these have together is what makes watching this pair so enjoyable.  
46. Holo and Lawrence (Spice and Wolf)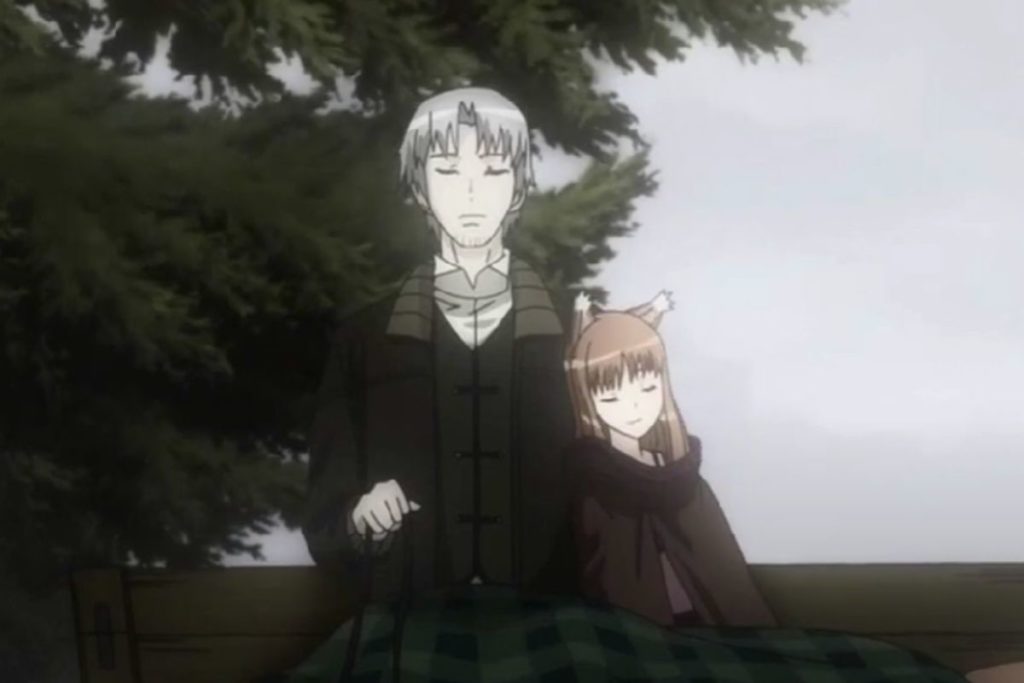 Holo is seen as a wolf god, who is traveling with merchant Lawrence. It is known that Lawrence isn't very good at speaking to women. Therefore, when Holo tries to flirt with him, this makes for an amusing watch. 
Eventually, a relationship begins to grow between the characters. They are a very unconventional couple and have a lot of decisions that they must agree upon and make together.
They are a well-loved couple, who may look like they won't work, but are a joy to watch. 
45. Mikasa and Eren (Attack on Titan)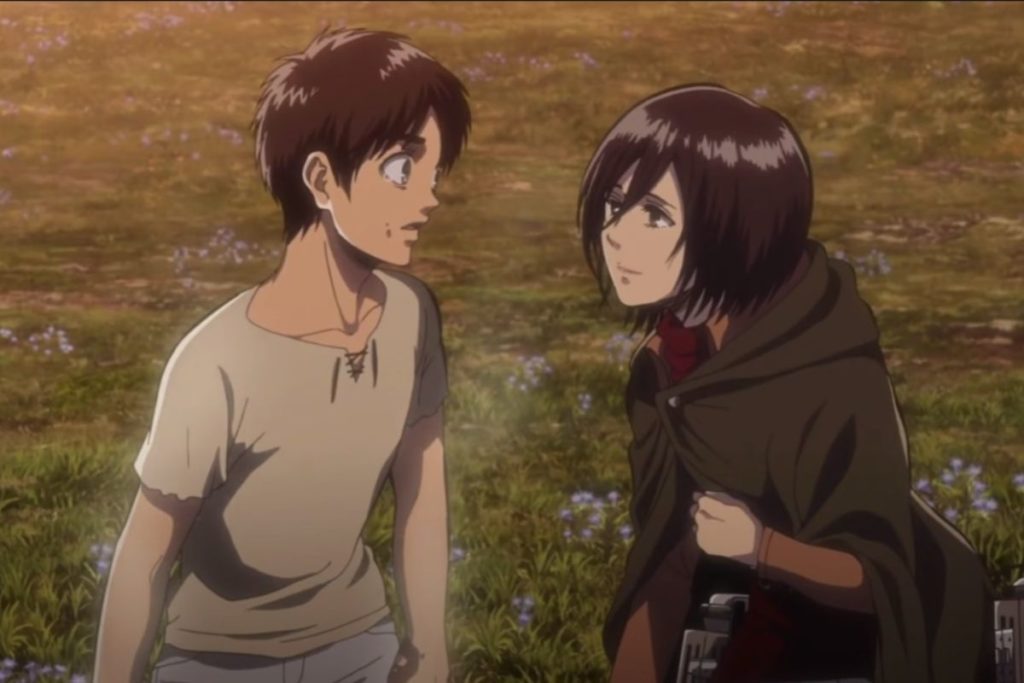 Attack on Titan is a beloved post-apocalyptic anime show. At the center of the show is our romance between Mikasa and Eren.
These two have known each other since they were children. They have a very constrained relationship, due to their contrasting personalities.
Mikasa struggles to open up, while Eren will easily speak his mind. They both share a lot of love for each other, yet they never really spoke their feelings to one another.
Unlike the other couples, we have mentioned so far, this is more of a tragic love story, as the pair can't be together. Yet, fans love watching this couple and wished that these two could have ended up together.
44. Victor and Yuri (Yuri On Ice)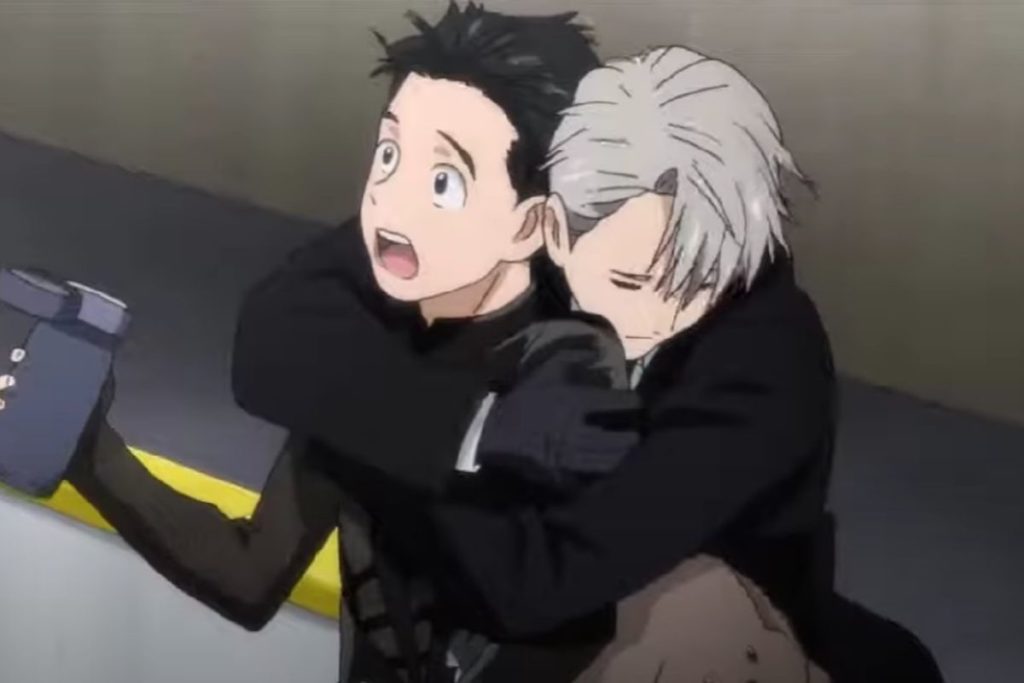 Yuri On Ice is actually a sports anime, but the romance between Victor and Yuri feels really real. This is a very realistic LGBTQ+ relationship that anime has produced. 
Yuri begins as a fan of Victor, but then a romance begins to form. These characters complement each other, and their connection feels very genuine. It can be no surprise to find Victor and Yuri on our list. 
43. Kurisu and Okabe (Stein's Gate)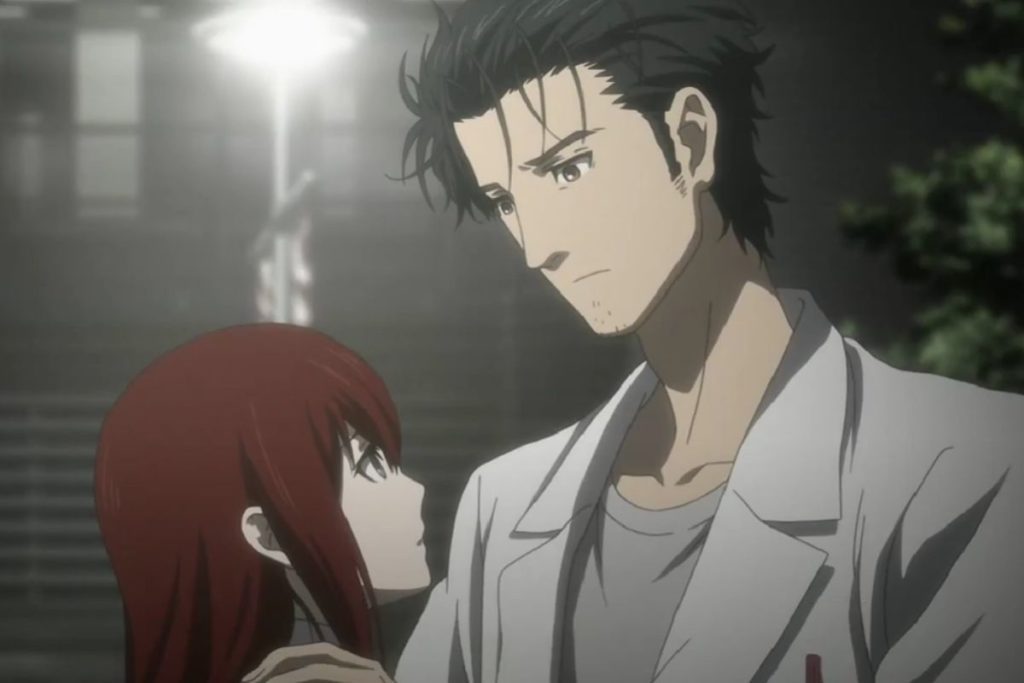 Stein's gate is all about time travel and love, what a combination! This is what makes this anime show so popular and memorable.
Kurisu and Okabe's relationship is really well written and thought out. The overall story is centered around text messages, which can transcend space and time.
These two characters were together because of their love of science. This is more of an age gap love story, as Okabe is a university student and Kurisu is a visiting scientist at the university.
They both spend long hours in the lab, uncovering discoveries. These two will go to any lengths for one another. 
42. Ryuuji and Taiga (Toradora)
Toradora is the ultimate rom-com anime. We start this show with both our characters wanting their feelings to be returned from their crushes.
Yet eventually, this pair find each other, and a connection is created, who help each other with their personal struggles.
Ryuuji is very fearsome but kind, while Taiga can be quite temperamental. They started off with a string of misunderstandings, but eventually, a romance is formed.
There is tension when watching this pair, and you root that they will stay together. 
41. Chiyo and Umetarou (Gekkan Shoujo Nozaki-Kun)
In Gekkan Shoujo Nozaki-Kun, Chiyo is in high school and confesses her feelings to Umetarou, by asking him out on a date.
Yet, Umetarou misunderstands what she has said and thinks she is a fan of his artwork. Chiyo is distraught over the rejection, but a friendship forms between the characters. 
Throughout the show, Umetarou remains unaware of Chiyo's feelings for him. However, there are lots of romantic interactions that make fans want these characters to take their relationship to the next level. 
40. Risa and Otani (Lovely Complex)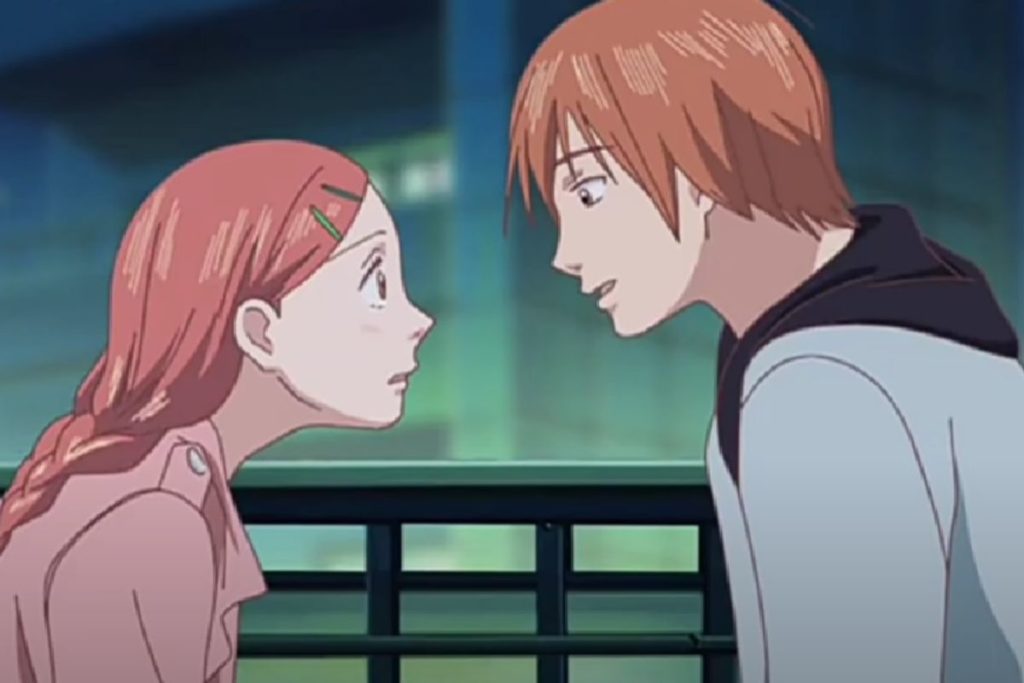 This is a very easy and fun anime show to watch. You get to watch Risa, the tallest girl in her class, develop feelings for Otani, the shortest boy in the class.
Traditional stereotypes are questioned in this anime show. These characters start off as friends, and slowly a relationship begins to form between them.
There is no denying that Risa and Otani are a very cute couple to watch. They are both very kind, but they are seen to be bickering. This just foreshadowed the romance between the pair. Risa and Otani are a cute yet hilarious couple to watch. 
39. Banri and Koko (Golden Time)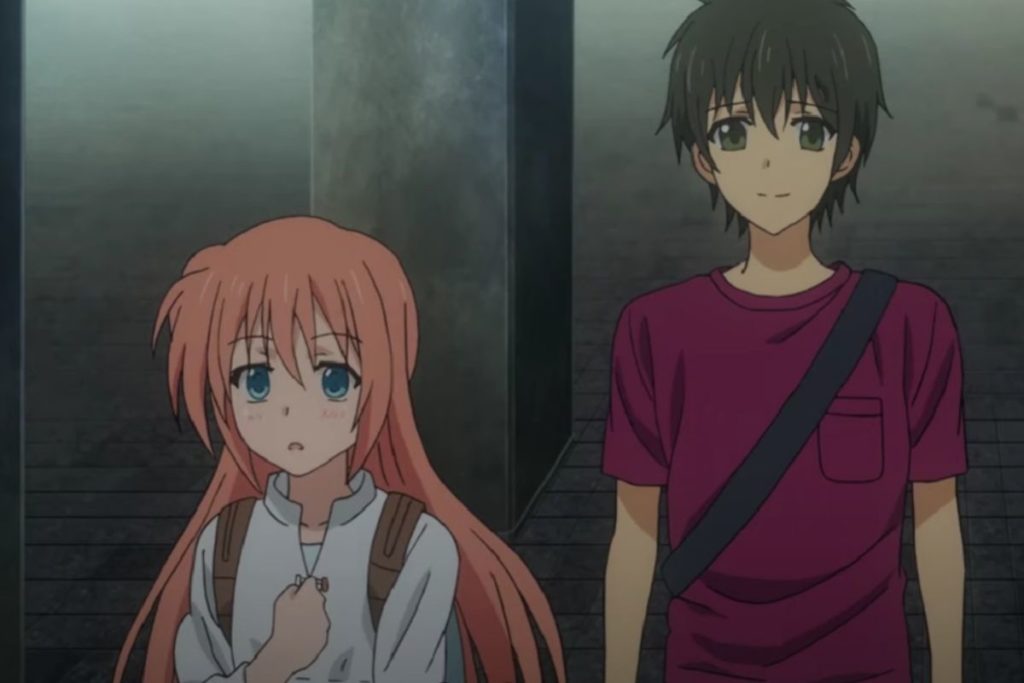 Golden Time gives us a great college romance between Banri and Koko. Throughout the 24 episodes of this show, we watch both Banri and Koko explore everything that is possible in their first days at college. 
Banri suffers from memory loss, while Koko has childhood abandonment issues. Their pain is what brings these two characters together.
The romance between these characters starts off small, and then it takes over both of them at the end. A passionate couple, who are exciting to watch. 
38. Celty and Shinra (Durarara!!)
Celty and Shinra may look like an odd couple, but they are a great match for each other. They met while they were children and eventually became roommates. Shinra developed feelings for Celty first, but Celty reciprocates these feelings later on as well. 
Shinra does all he can to get Celty's head back, but while she can't speak, she uses text messages to speak. This pair is really adorable together and appears to be the perfect match for one another, even if it may look like an odd match. 
37. Hinata and Yui (Angel Beats)
During Angel Beats, the interactions between Hinata and Yui are heartwarming. Hinata is seen as a bit of a comedian, while Yui is a free spirit.
Originally, there was a lot of tension between these two characters. However, revelations about each of their pasts make the two characters open up to each other. 
This then leads to these characters forming a strong relationship with each other.  
36. Kamina and Yoko (Gurren Lagann)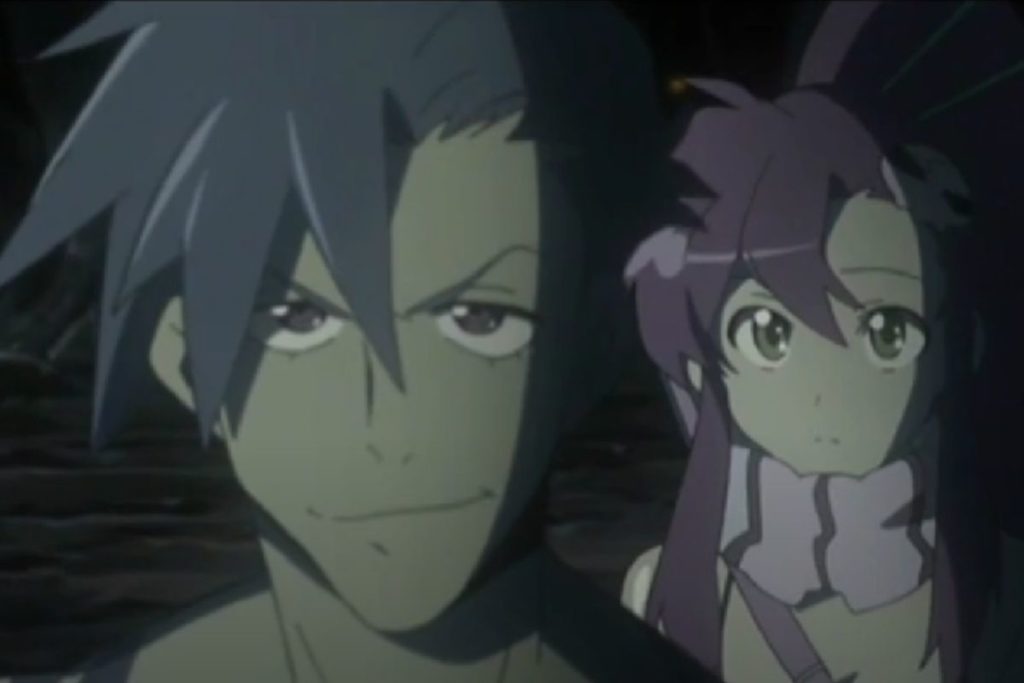 Gurren Lagann takes place in a village under the ground. Kamina and his friend Simon, encounter Yoko, a sniper-girl on the surface. Immediately, Kamina tries to flirt with Yoko, who doesn't approve of it. 
Both of these characters have very conflicting personalities, therefore there is a lot of bickering between the pair. However, there is also a lot of trust and love between them. The kiss on the battlefield was a delight for fans of this show. 
35. Yuzuru and Kanade (Angel Beats)
Anime is known for its unique stories, and Angel Beats is one of those shows. This is a very emotionally driven show, where those who died on Earth are stuck in a kind of high school purgatory.
God is seen as an enemy who must be defeated for anyone to return to their normal life. 
Both Yuzuru and Kanade are dead, who try to help each other escape purgatory. This romance has a more unusual start as it starts with one of them stabbing the other, but they develop pure love for each other. 
This anime might have a bittersweet ending, but these two characters are meant for each other. An emotional show, but these two characters will meet again in the afterlife. 
34. Simon and Nia (Gurren Lagann)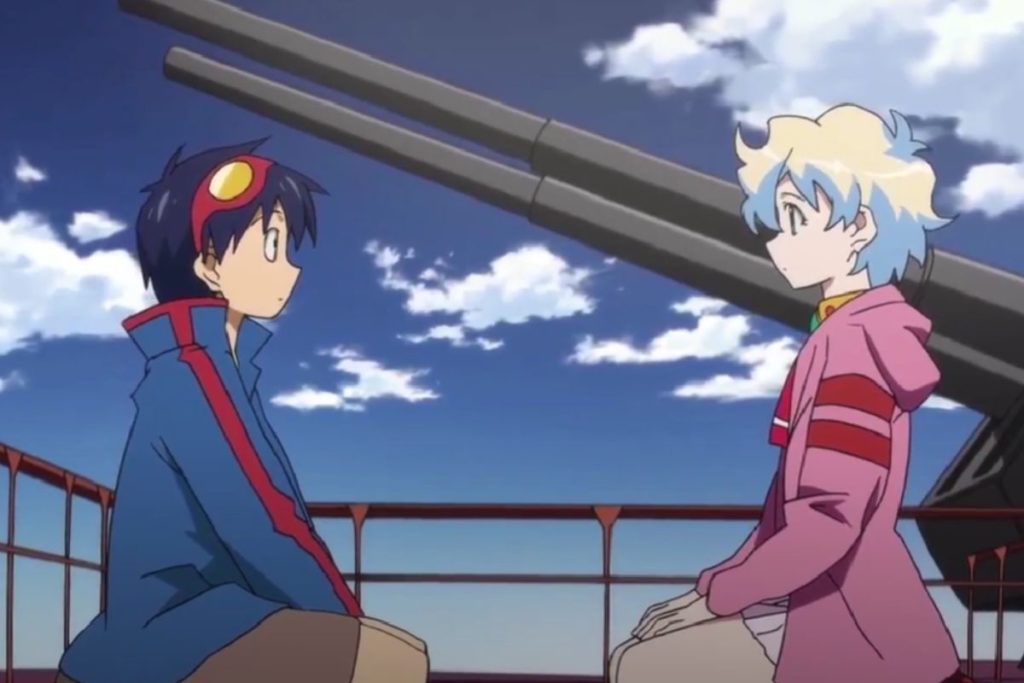 We are back with Gurren Lagann, but this time it's about Simon's love story. He is seen at the start of this show as shy and pushed around a lot. However, he begins to grow in confidence as the story progresses. 
Eventually, Simon meets Nina, who isn't human. Simon instantly falls for Nina, and the pair marry in the final episode. Simon tries his best to turn Nia human, but unfortunately, nothing works.
Shortly after they are married, Nia fades away and all that is left of her is her ring. A strong couple with lots of chemistry; it's a shame they couldn't have stayed together forever. 
33. Takeo and Yamato (My Love Story)
It has to be said that Takeo and Yamato are another unlikely couple, but they are a fan favorite. Takeo isn't your traditional good-looking boy who all the girls fancy. Takeo actually falls for Yamato first.
Takeo isn't great in romantic settings, and all he wants is to spend time with Yamato. While Yamato wants to show how much she loves him and is very romantic.
Both characters have quite similar personalities and are actually an excellent match for one another. This show is quite nice to watch this pair come together, and they fit really well together.
They each share a mutual love for one another, which makes them happy together. Just an all-around pleasant couple to watch. 
32. Tomoya and Nagisa (Clannad)
If you have watched Clannad, you will understand why this couple is adored so much. Tomoya has a very dim look on life, due to past events, while Nagisa tries to teach him to open his heart no matter what has happened in his past. 
Nagisa is seen as one of the loveliest characters in anime, yet she is hiding her own secrets. While Tomoya does eventually learn to be grateful for who and what he has, Nagisa has a strange illness.
These two characters help each other. y. A sweet couple that is well suited to each other. Thus, it is no surprise that fans want them to stay together. 
31. Tatsumi and Mine (Akame ga Kill)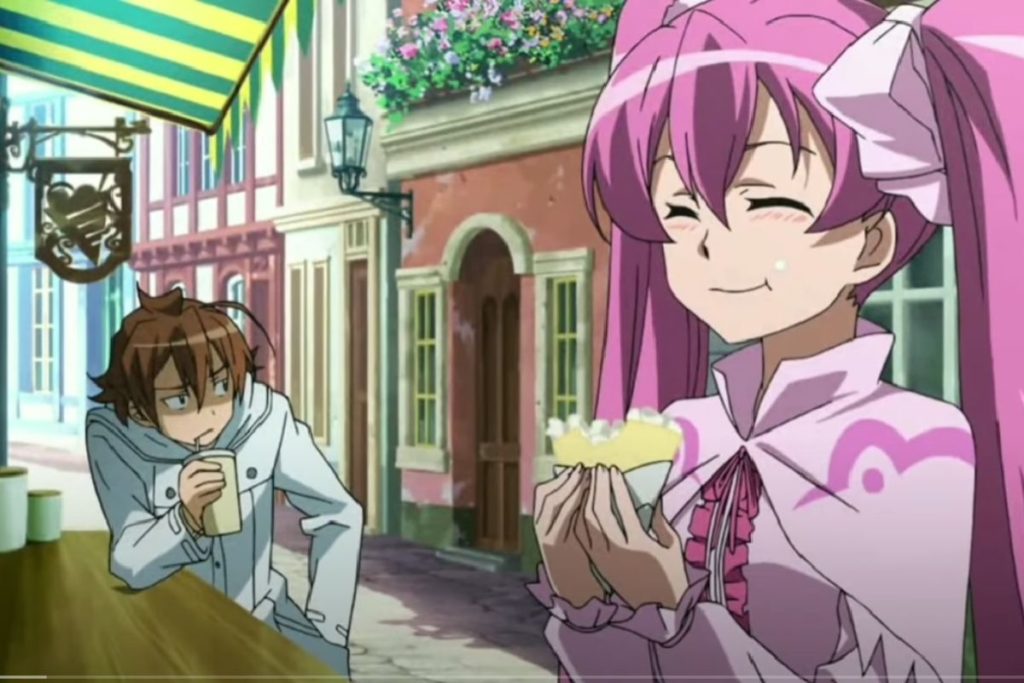 When you think of Akame ga Kill, you may not think of romance, but the writers have managed to get a love arc in the story. Both Tatsumi and Mine are assassins, which brings its own set of problems for the pair.
She may have started out as distant and harsh, but Mine soon warms up to Tatsumi. Once this has happened, this pair is cute to watch together as they protect each other during their missions.
Then, Mine begins to reveal another part of herself to Tatsumi, which shows she does truly love and trust him. 
Akame ga Kill might be known as a very emotional and tragic anime. Yet the romance from this pair is a great distraction from the sadness. 
30. Ryu and Urara (Yamada Kun and the Seven Witches)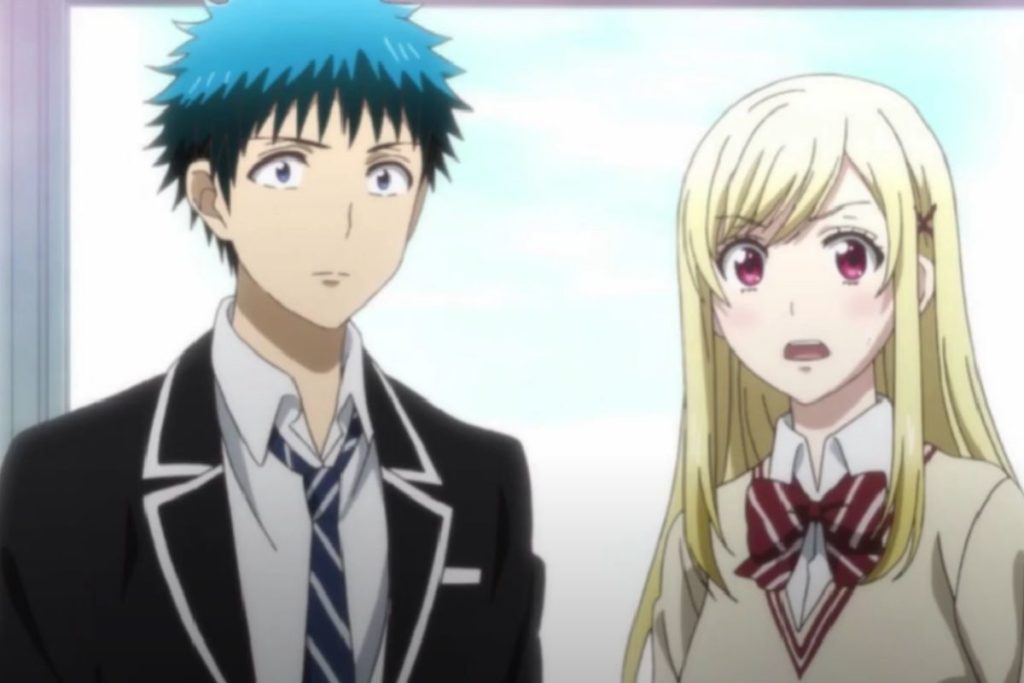 The premise of this show may sound a little odd, but it is still a good watch. There is a witch school, and we follow seven witches. The witches only learn new powers by kissing. 
Ryu discovers that he can swap bodies by kissing. He then accidentally ends up swapping bodies with Urara. This body swap, then, meant that the characters started to learn more about each other.
They saw how each other perceived themselves. 
Over time, Ryu and Urara start to express how they feel about each other. Then a true relationship blossoms between the pair. An interesting couple who really understand one another through body swapping. 
29. Yato and Iki (Noragami)
During Noragami, human Iki encounters Yato, who is a god in human form. She watches her separate from her body. 
Iki is a normal human, who just wants to go back to her normal life. While Yato is a silly god who just wants to gather as much wealth as he can.
They both need each other, which then develops into feelings. You will see lots of tension between this pair as they fall deeper in love with each other and crave to find out more about each other. 
28. Akihiko and Misaki (Junjou Romantica)
Junjou Romantica follows three stories, about the romantic lives of three very detailed characters. The main couple we follow is Akihiko and Misaki.
Misaki struggles to accept that he loves Akihiko, yet his actions say the opposite. Very slowly, Misaki opens up to Akihiko, which then in turn makes him overall less shy in their relationship.
This feels like a very real relationship and is very relatable for any one part of the LGBTQ+ community who is struggling to accept who they are and open up to other people. An honest, yet comforting couple to watch.
27. Yuta and Rikka (Love, Chuunibyou, and Other Delusions)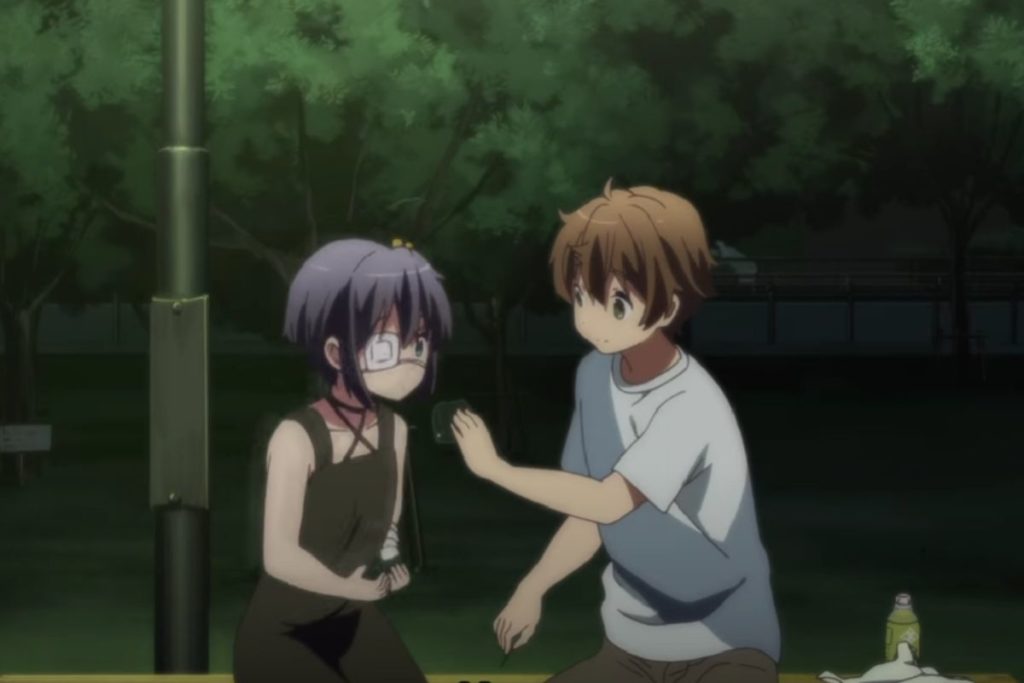 We meet Yuta starting high school, hoping for a new start. He is embarrassed by his past and keeps having delusions. Yet, Yuta meets Rikka, who explains that she also gives in to her delusions. 
The delusions are what bring these characters together. Their weirdness is what brings these characters together, which is a joy to watch. They both go on a journey of self-discovery together, and along the way a beautiful romance is formed. 
26. Panty and Brief (Panty and Stocking)
They may seem like a strange couple, but this is a weird show that is just hilarious to watch. Panty doesn't want to fall in love, she likes to have multiple partners, rather than just one. However, Brief arrives and tries his best to date her. 
Brief is very stubborn and continues to ask Panty out. This then leads to some romantic tension between the pair. The tension feels very real and reliable, yet they aren't the ideal couple.
However, they are hilarious and not all couples are perfect for each other. 
25. Natsuki and Emilia (Re:Zero)
Re:Zero is a well known and memorable fantasy series. Natsuki finds himself in another world and encounters Emilia. He then faces many life and death situations, which caused his death. However, every time he dies, the story resets. 
A truth develops between Natsuki and Emilia, as Natsuki dedicates his life to protecting Emilia. For Natsuki, it is love at first sight, while for Emilia these feelings take a little longer to develop.
Eventually, Natsuki is made Emilia's knight, which shows the strong bond these characters have formed. 
Their romance is well written, and not boring to watch at all.
24. Kenshiro and Yuria (First of the North Star)
In First of the North Star, we watch Kenshiro and his partner Yuria looking for somewhere to call home. Unfortunately, Yuria is kidnapped, which then begins Kenshiro's adventure to go and get her back.
This anime show is an emotional rollercoaster, as we are led to believe that Yuria has taken her own life. Only to find out that she is still alive. You can feel the love between this pair, and it is a delight to watch.
23. Lelouch and C.C. (Code Geass)
C.C. is an immortal being who gives Lelouch the power of Geass. He is a prince who wants to start a revolution against those in power who mistreat the poor.
These two have a strong connection throughout the series. We get to see C.C. 's past lives, which further shows the trust these pairs have in one another. 
As this is a very serious anime show, the romance between these two characters is a huge relief. 
22. Usagi and Mamoru (Sailor Moon)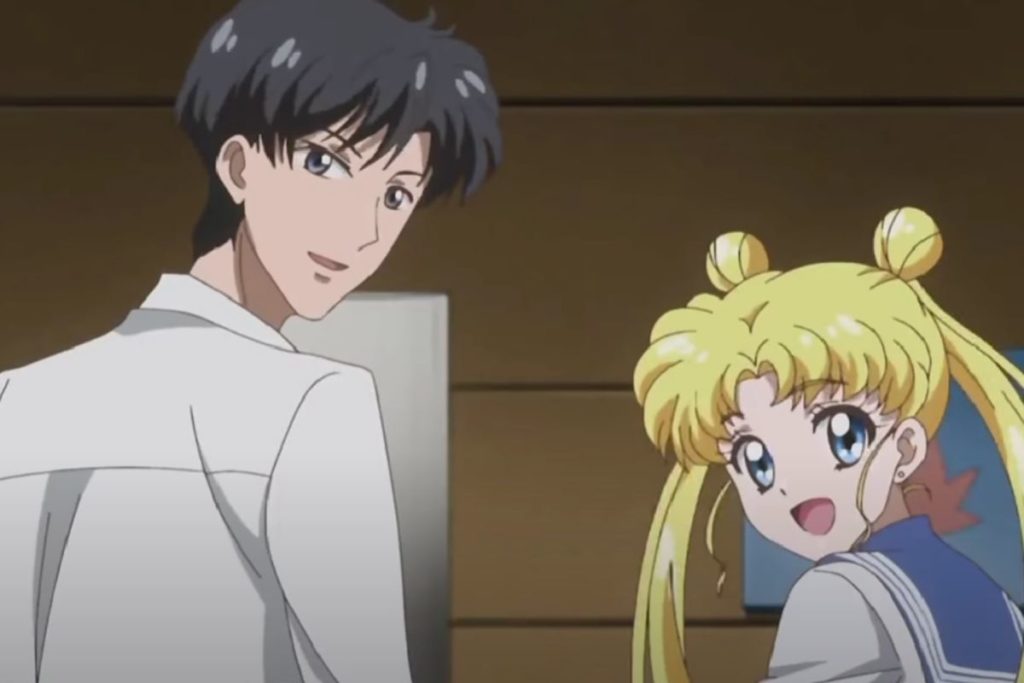 The issue with superheroes is that they must hide their secret identity. In Sailor Moon, our characters, Usagi and Mamoru, both fall in love with each other and yet don't realize who their true identities are. 
It is clear that both of these characters care deeply for one another. As they both do their best to protect each other. Eventually, they discover who one another are, and they end up falling even more madly in love.
Usagi and Mamoru are a really happy couple to watch, who have a joyful ending with each other. 
21. Misato and Kaji (Neon Genesis Evangelion)
Misato is the traditional every girl wants me type of guy, while Kaji is the traditional strong female type. This pair were lovers during college, but then parted ways for various reasons.
They then later meet up once again and there are still unsaid feelings between the pair. 
This is a pair that fans have waited to get together again. They go through a real journey with each other and rely on each other. The ending to their love story is quite bittersweet, but in the manga, it is said that Misato and Kaji reunite after death. 
20. Nana and Ren (Nana)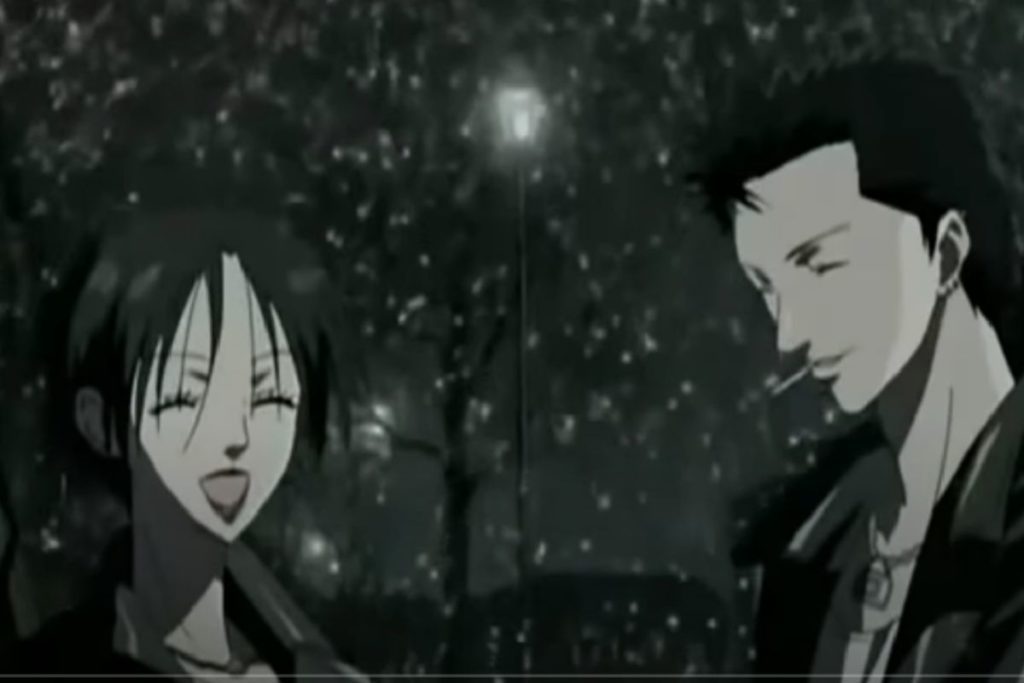 Nana revolves around two very different young adults named Nana. Here we are talking about Nana Osaki, who is seen with a goth fashion sense and is a singer. Nana formed a relationship with Ren, but with Ren moving to Tokyo, this ended whatever they had.
Nana ends up relocating to Tokyo too and meets Ren again at a concert. The pair begin to date once again. They both have the desire to make it big time in the music industry.
Alongside this, these characters have great chemistry together, so it's no surprise that these characters started dating again in the show. 
19. Saki And Akira (Eden of the East)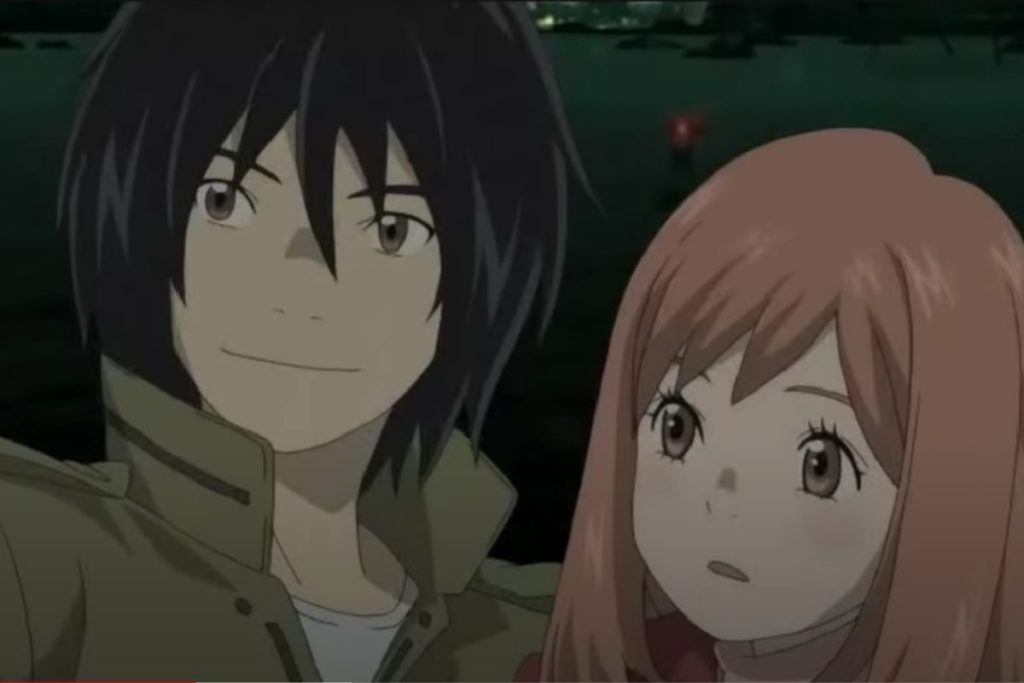 There is no denying that this is a bit of a strange anime show. Saki goes to Washington, D.C where she meets a naked man running through the streets, that guy is Akira.
Saki then spends some time with him, and they travel back to her home together. 
Saki ends up partnering up with Akira, and they reopen her old club. The two begin to grow closer to each other and develop respect for each other. Their feelings are unspoken between each other, thus their love is subtle for each other. 
18. Isaac and Mira (Baccano!!)
Not all couples have to be good, there can be some criminal couples as well. There is where the costume-thieving thieves of Issac and Mira come in. This pair brings a lot of entertainment and comedic relief to the show. 
They work well together and fully trust one another. Isaac and Mira were even named the 2009 Duo of the Year. Therefore, you know that these two criminals are suited for each other. 
17. Ringo and Itsuki (Air Gear)
Itsuki is a street fighter that lives with his four adopted sisters, who are part of different street gangs. Ringo is Ituski's childhood friend, yet he starts to see her as more of a love interest than his friend. 
Slowly these two characters start to grow closer and at times it is quite emotional. They both have great chemistry together. Ringo always tried to deny her feelings for Itsuki, but it was obvious to everyone how she felt.
Ringo is the only person that really knows Itsuki and the only person he can really trust. Their relationship brings a lot of balance to Air Gear.
16. Kei and Hikari (Special A)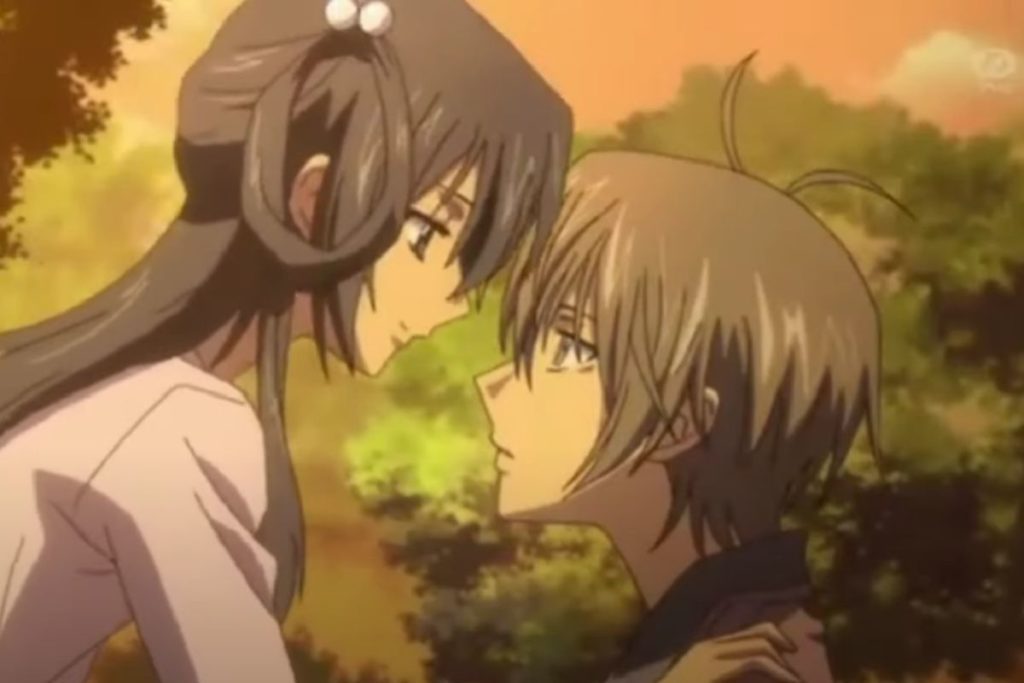 Kei and Hikari have always been competitive with one another since they were children. Now in high school, this competitive nature hasn't slowed down.
For Hikari, Kei is an important person in her life. While Kei knows that his feelings are beginning to grow for Hikari.
The pair decide to give into each other's romantic feelings. This makes for joyful viewing, compared to the competitive nature of this anime show.
15. Ichigo and Orihime (Bleach)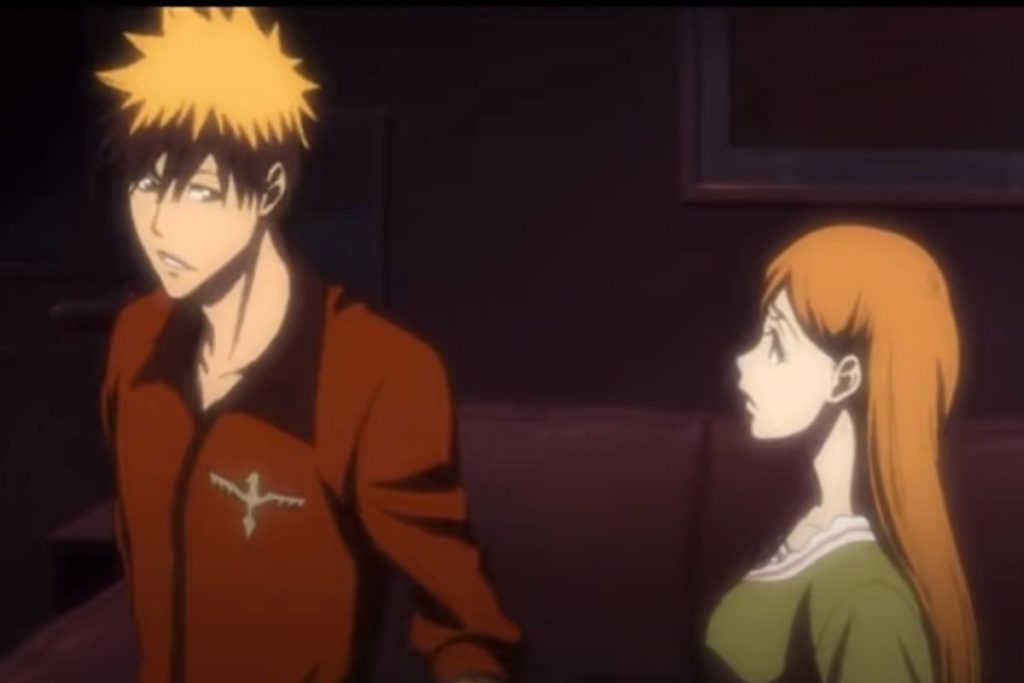 In Bleach, you are either Team Orihime or Rukia. It is known that Orihime has had a crush on Ichigo since elementary school.
As the show progressed, the relationship between these characters grew, and they were both away from their feelings for one another. Ichigo and Orhime would go to any lengths to protect each other in and out of battle. 
Their love is very strong, and can't be destroyed. 
14. Maka and Evans (Soul Eater)
In the Death Weapon Meister Academy, everyone is paired up. Maka and Evans are paired together. They are said to have a deep connection, which will help them while on the battlefield.
Their personalities are very opposing, but they have a lot of trust in each other. 
A romance is teased with this pair throughout, yet it is never confirmed. You can see a gradual romance being developed, which is full of subtlety and tension. 
13. Kakeru and Naho (Orange)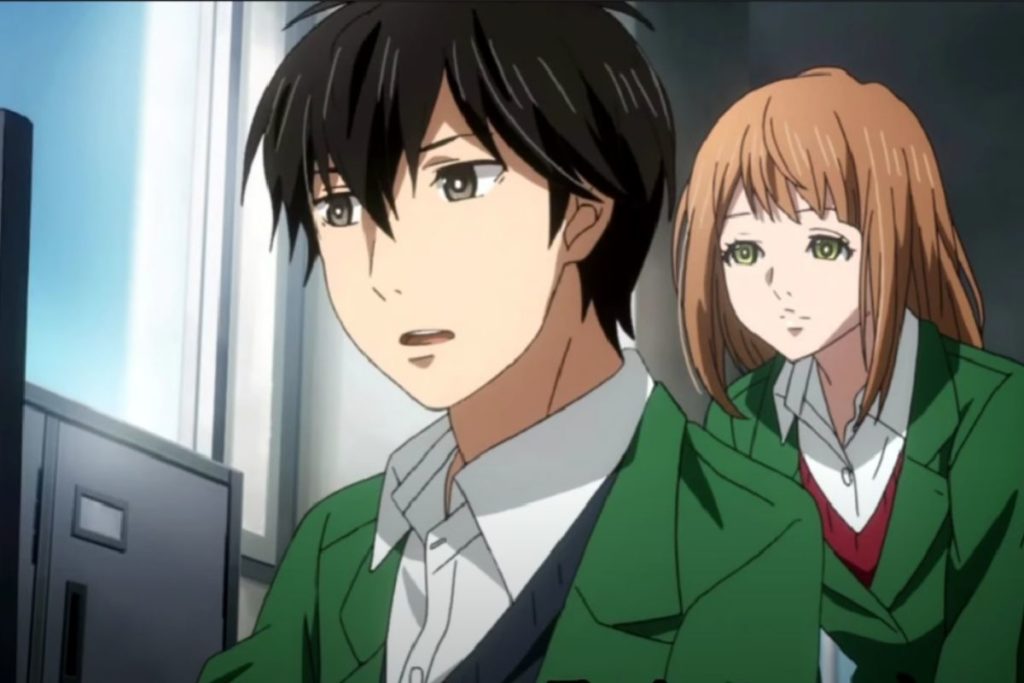 Naho receives a letter from her past self. Then she meets Kakeru, the transfer student. A connection between this pair forms straight away. Naho is aware from the letter that she needs to help protect Kakeru. 
More letters arrive, and what this anime tries to tell us is that you should live your life with no regrets. This show deals with love in the past and present. It is clear that Naho and Kakeru are meant to be together. 
12. Satomi and Shinichi (Parasyte)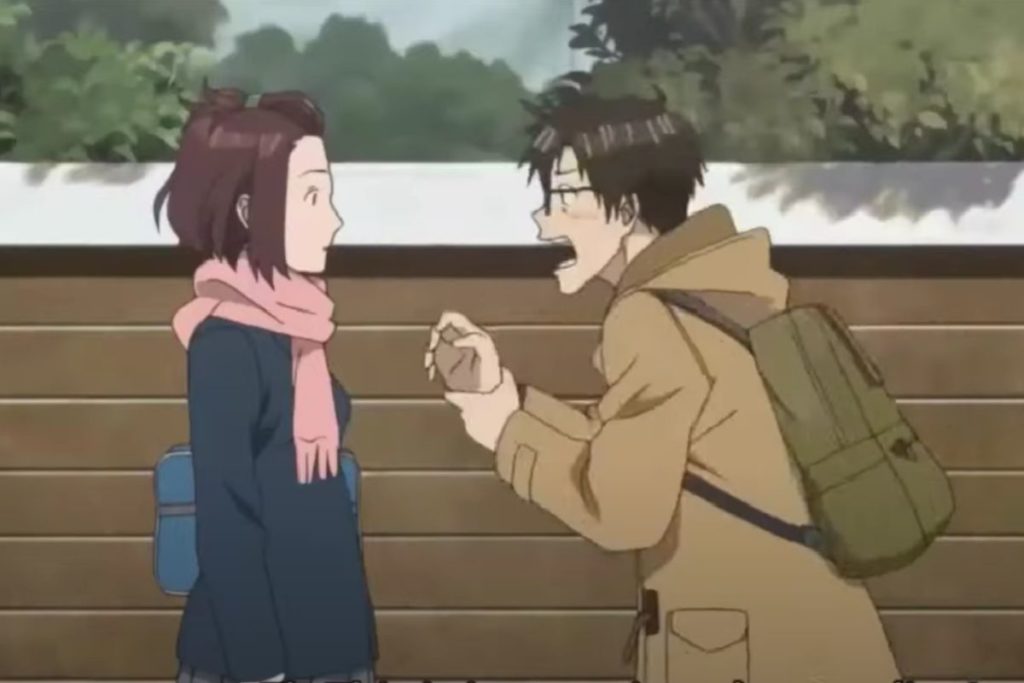 Parasyte is seen as quite a disturbing anime to watch. Yet it does a good job at portraying a very realistic romance.
One day, Shinichi wakes up to find an alien parasite in his left hand, and the parasite is starting to make him slightly less human.
Satomi is Shinichi's classmate, who has had a crush on him for a while. She struggles to accept what is happening to him, but eventually, the pair reconcile. They do end up together and form an unbreakable bond with one another.
11. Yukako and Koichi (Jojo's Bizarre Adventure: Diamond is Unbreakable)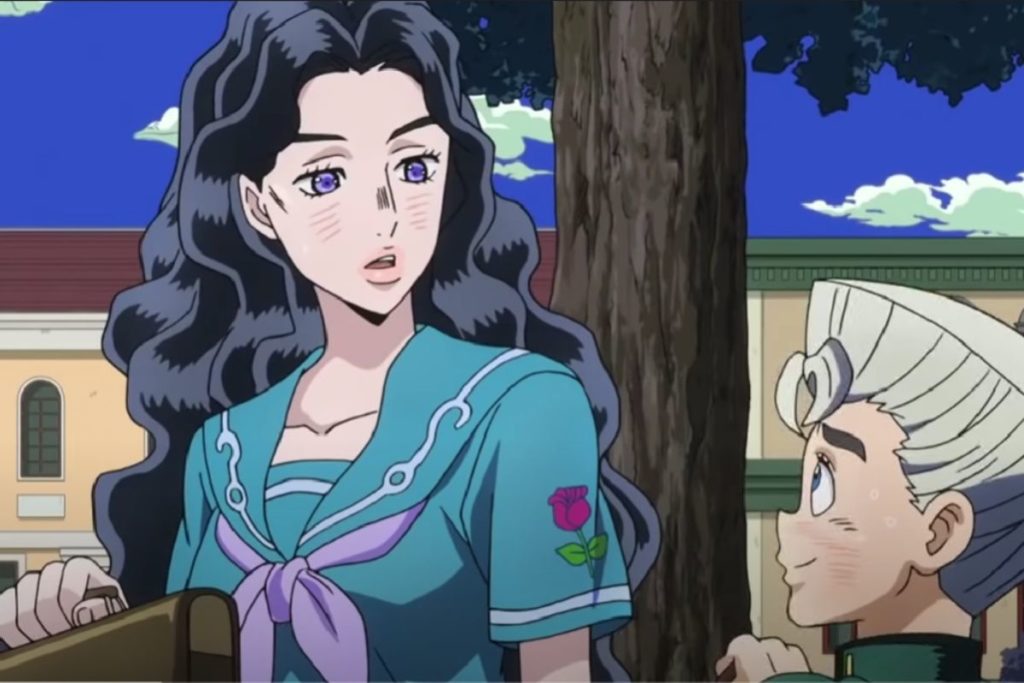 Yukako is a very obsessive woman, who once she had confessed her feelings toward Koichi kidnapped him. This then led Koichi to lose interest in her, after he defeated her, he remained scared of her. 
Yet during the Cinderella episode everything changes. Koichi and Yukako make up, and they begin to grow attracted to one another again.
Koichi started to like how strong and aggressive Yukako was. He was willing to blind himself if Cinderella made Yukako ugly. They became a strong couple, who had a bit of a rocky beginning. 
10. Tomeoe and Nanami (Kamisama Kiss)
Kamisama Kiss is an emotional anime to watch. Nanami is left homeless as her father runs away because of money issues. Nanami saves a man, who then gives her somewhere to stay. Here is where she meets Romeo. 
Over time, Nanami reluctantly falls in love with Someone. Yet he returns her affections. This is a very well-written anime, and the romance is really meaningful to watch. 
9. Kou and Futaba (Ao Haru Ride)
Kou and Futaba add to the cute yet complicated romance genre. These pairs were once lovers, but they broke up. Yet they meet again, but Futaba doesn't like the new Kou who is rude. The old Kou is sweet and compassionate. 
This change in Kou, draws the pair back to one another to see what went wrong. This results in Futaba falling in love with Kou again. A simple and pleasant romance anime to watch.
8. Yona and Hak (Yona of the Dawn)
Yona is a very spoiled princess who is next in line. Her birthday becomes a nightmare as her father is killed by her cousin. She must flee with the help of Hak, her bodyguard and childhood friend. 
They run away to other kingdoms and meet dragons. As Hak has known Yona for so long, he is very protective of her.
As the show continues, feelings are slowly formed between the pair. Fans love the romance between this pair as it was slow-burning but works really well. 
7.Yuki and Zero (Vampire Knight)
Humans and vampires know that there is going to be a romance somewhere. In this anime, vampires and humans are tried to be kept apart. Yuki meets Zero, once a human but now a vampire. Obviously, this pair falls in love with each other.
Who doesn't enjoy a bit of forbidden love? Zero attempts to not drink Yuki's blood, but Yuki is torn between Zero and another guy. In the end, Zero is made human again, and the pair get to be together. 
6. Izumi and Ryouma (Love Stage)
Izumi and Ryouma are one anothers first love. Ryouma didn't realize that Izumi was a boy, but this doesn't stop the pair from falling in love. Even when it is revealed, Ryouma still wants to be with Izumi. 
Their relationship was difficult, as both characters understand who they are. Yet in the end, nothing can stop the love between this pair. They go on to marry each other and live happily with each other. 
5. Yuu and Harukka (Sakura Trick)
Yuu and Harukka have been friends since middle school. Yet a kiss changes all of this. Haruka is keen to explore deeper into their friendship, while You is apprehensive.
However, at the end of the show, both characters accept how they feel about each other. 
They then go on to start dating openly. This series makes a great case of how conflicting these emotions can be for same-sex couples. 
4. Hitagi and Koyomi (Bakemonogatari)
A love story with a weird beginning. Hitagi literally forces a stapler into Koyomi's mouth! 
Hitagi is a very fragile-looking girl, who distances herself from others. Koyomi is a very kind guy who wants to help Hitagi. They both help each other and grow as a result of that.
They appear perfect for each other. Not only that, but they have true love and each helped them overcome their own issues. 
Fans would love this couple to remain together. They have broken up three times already, yet they always keep coming back to each other.  
3. Mitsuha and Tachibana (Your Name)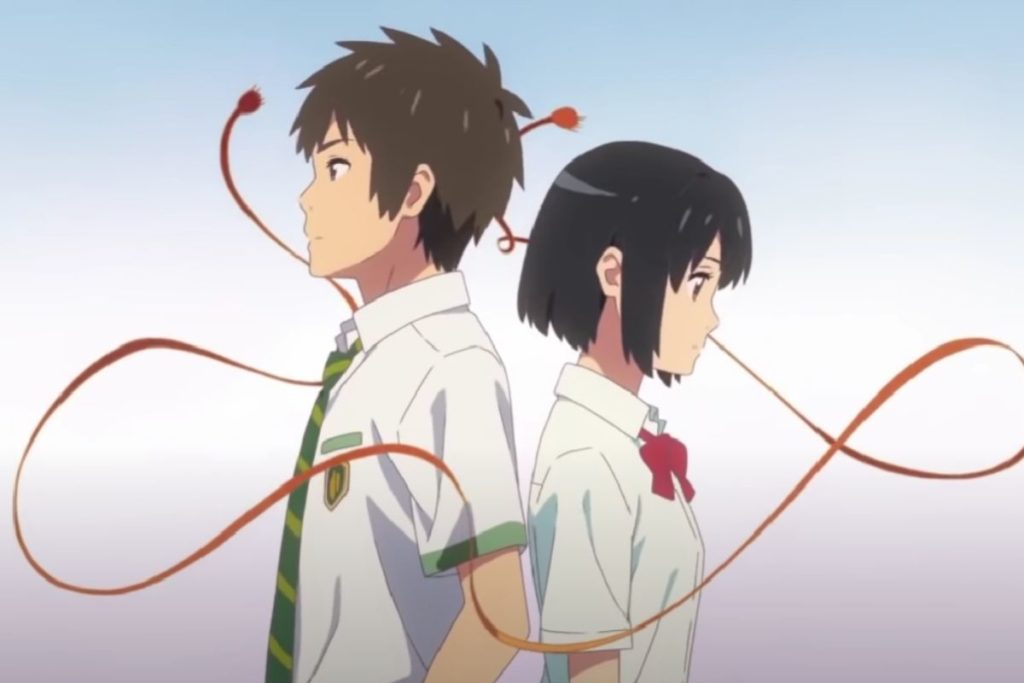 Your Name/Kimi No Nawa, is a fantasy love story that has grown in popularity. Both Mitsuha and Tachibana share a connection with each other that spreads over space and time. Both characters know each other so well, yet they never actually meet. 
The love between this couple grows slowly and is very pure. The fate of this couple is up in the air, with lots of fans hoping that they get together, as they seem perfect for one another. 
2. Haru and Shizuku (My Little Monster)
This series is all about opposites attracting. Top grade student Shizuka bonds with troublemaker Haru. There are rumors that Haru is violet, yet around Shizuku he is very gentle. 
These two outcasts come together to produce a really sweet couple. It shows that first impressions aren't always what they seem
1.Elaine and Ban (The Seven Deadly Sins)
There are a few great relationships to be found in The Seven Deadly Sins. There is no denying that Elaine and Ban are so different from each other, but they are attracted to one another. 
Ban is still tied to his lost lover, but he will do anything for Elaine.  As Elaine is a fragile fairy. Their romance might be very long, yet the passion that they had for each other is incredibly strong. They had a love that others have only ever dreamt of.
Takeaway
We have gone through the top 55 best anime couples. You may have seen your favorites on this list, or we have mentioned couples that you've never heard of.
Either way, if you want to watch a good romance, you now have 55 choices to choose from. 
Latest posts by Grace Brown
(see all)