If any of you have been through a Rom-Com phase during your anime-watching career, you will probably have seen Kaichou wa Maid Sama.
This hilarious and romantic anime is a staple for those of you that enjoy romance and comedy, it mixes its genres extremely well, which is why it was such a popular anime.
The name Kaichou wa Maid Sama translates to 'The Class President is a Maid'. 
This anime quickly gained popularity and fans after its release, the cute and funny story about the romantic lives of the characters is just one reason this anime was so well-loved.
Even though the comedy was subtle, this anime has some really laugh-out-loud moments that keep you coming back for more. On top of that, the realistic depiction of romance was another reason Maid Sama was so well received. 
The story centers around Misaki and Usui and the romantic connection that slowly forms between them. They were at the core of the whole story, so much so that the drama took a back foot in the plot.
The contrasting representation of the confident and strong 'damsel in distress' and her secret job to support her family made sure that the audience could simply not look away as they watched the story unfold. 
Kaichou was Maid Sama is one of the rare anime series that has more than 24 episodes, it actually has 26, so you get an extra two episodes of pure joy out of this anime.
The story's central plot is about Misaki, who is leading two lives. Her unflappable reputation in her everyday school life as the class president and a server at a maid café. Two lives she is desperate to keep apart. 
Kaichou wa Maid Sama was adapted from Hiro Fujiwara's manga. The first episode of her anime aired between April and September 2010. 
What Do We Know About Kaichou Wa Maid Sama?
The characters in this anime were created in such a way that made them relatable, natural, and real. They were not unobtainable goals that we could only ever dream of achieving.
The author strived to create something that we could look at and relate to our own lives in some way. 
There are two main characters in this anime, Ayuzawa Misaki and Usui Takumi, they are not only the main characters they are also the main love interests of Maid Sama. 
Misaki is a hard-working senior in the Seiki High School. But, even as a senior, she is a new student at the school. This is largely due to the fact that her new high school was actually a boy-only institute until recently.
It recently changed to be open to girls, and this is where Misaki arrives. She is a smart, sincere, and hard-working student and quickly gets elected as president of the student council. 
Misaki is aware of the school's reputation and takes it upon herself to discipline the students. Especially the boys who disregard the rules and pick on their new female classmates.
She keeps her life outside of school very private, to the point where no one really knows what she is like in the real world. 
The fact is, her life at home is not great, her family is struggling with money, and she must help provide. Misaki's father left her mother years ago, and this adds to the weight she carries around every day.
Her life was made harder when her mother fell ill, and she had to provide for both her mother and her sister. It was at this point she found a job at café latte. 
Misaki is very adamant that she keeps her job as a maid at the café a secret because she is worried that she will lose face with her classmates. Her reputation as the scary and intimidating class president is on the line, after all. 
Misaki's life begins to spiral out of control when Usui Takumi visits the café while she is on shift and learns her secret.
Usui is a very popular boy at her school, when he recognizes her while she is wearing her maid uniform at café latte, she fears the worst. Her secret will be out and no one will take her seriously again. 
But, when she goes to school the next day, she is confronted with the fact that Usui did not let the cat out of the bag. It turns out that he kept her secret and did not tell a soul.
Through the course of the anime, Misaki and Usui fall in love, and they eventually confess to each other. At this point, the season ends, and we are left wondering how their relationship went and if they are destined to be together. 
Announcements For A Second Season For Maid Sama?
Sadly, there has not been an official announcement for the second season of Kaichou wa Maid Sama's. But, there has not been any information that denies the possibility of a season 2.
The J.C. Staff Studio, which is the production house, has not written off the idea of a second season. 
There have been many rumors and murmuring of a second season in the works. But assuming that this is the case is probably not a good idea.
The delay between the first season to now has been very long, and there have been several popular anime that have come back with a new season after a very long delay. Bleach comes to mind. 
But, as with any large-scale production, it is the prospect of money that will dictate whether there will be another season even after years of delay. The demand for a new season based on the manga will need to be quite large for anything to happen. 
We are going to analyze our own content and look at the source material, sales, and popularity in this article today, so we can get a better idea of what Kaichou wa Maid Sama's popularity and demand actually look like. 
Manga: The Source Material
Anime is often a tool creators use to popularize the manga or source material it was based on. Most of the time after an anime is released, the sales for the manga go up drastically.
This is because the viewers who have watched, enjoyed, and fallen in love with the characters and story want to know what happens next. So, they purchase the manga to find out the end of the story.
For Kaichou wa Maid Sama there are 18 volumes or 85 chapters of the manga.  The final volume was released back in 2013. But, how many volumes does the anime cover in season 1 of this anime? 
Well, the anime of Kaichou wa Maid Sama actually covers 8 volumes or 34 chapters of the manga. There are even side stories in chapter 19 which are not covered in the anime.
With this in mine, we can definitively say that there is more than through source material for another season. 
In addition to that, with a second season released it would cover the remaining manga volumes which were not used in season 1, and we will have a finale for the series. 
Let us take a look at the episodes of Kaichou wa Maid Sama that were released. They ran in 2010 and there was even a special that came out in 2011 which was used to supplement the history and plot of the story. 
Aired April 1st 2010 – Misa is a Maid Sama
Aired April 8th, 2010 – Maid Sama at the School Festival
Aired April 15th, 2010 – What Color is Misaki? Natural Color?
Aired April 22nd, 2010 – Net Idol Aoi
Aired April 29th, 2010 – First Time Minding the Shop
Aired May 6th, 2010 – Men & the Ayuzawa Cram School
Aired May 13th, 2010 – President of Miyabigaoka
Aired May 20th,2010 – Misaki Goes to Miyabigaoka
Aired May 27th, 2010 – Maid Sama does Momotaro
Aired June 3rd, 2010 – Sakura's Indie-Label Love
Aired June 10th 2010 – The Secret of Takumi Usui Approaches!
Aired June 17th, 2010 – Maid Sama &  the Sports Festival
Aired June 24th, 2010 – Idiots & Juveniles * Heroes &…
Aired July 1st, 2010 – "Soutane Kano of Class 1-7"
Aired July 8th 2010 – B. Rabbit at the Open Campus
Aired July 15th, 2010 – Maid Latte at the Beach House
Aired July 22nd, 2010 – Usui Becomes the Enemy
Aired July 29th, 2010 – Maid Sama is a Footman
Aired August 5th, 2010 – Footman Through a Change of Pairs
Aired August 12th, 2010 – "The Vice President is a Prince"
Aired August 19th, 2010 – Usui's Rival?! Hinata Shintani
Aired August 26th, 2010 – Tag at the Forest School
Aired September 2nd, 2010 – Maid Latte & a Whole Bunch of Sweets
Aired September 9th, 2010 – Lovey-Dovey Through Latte Magic
Aired September 16th, 2010 – Hinata & Misaki & Usui
Aired September 23rd, 2010 –Too Cruel Ayuzawa & Usui the Idiot
Aired May 11th, 2011 – It's an Omake (Special Episode)
Kaichou Wa Maid Sama's Popularity
As with almost anything, popularity occurs when people talk about it a lot. Social media has  a neat feature which shows you what is trending currently.
This usually happens when a particular topic is talked about a lot it really helps with popularity. Some social media websites like Twitter can help give us pretty good insight on this.
So, let us take a look at what social media has to say about Kaichou wa Maid Sama's popularity. 
Google Trends: If you check out google trends and search for Kaichou wa Maid Sama, you should get a graph which shows you when this topic was trending. The graph shows us that the popularity of this search is currently almost flat lining. Despite this you should not lose hope, it is normal practice for there to be long delays before a second season is released. 
Google Search: Google searches are one of the most important methods for learning the popularity of any topic. It shows you what people are searching and how many people have searched for that exact thing. Globally, over 18k people searched for Maid Sama Season 2 per month. The United States has contributed the lion's share of this number with over 15k searches per month. 
Twitter: Twitter has many fans which are dedicated to the production company for Kaichou wa Maid Sama to start production on a second season. Despite this, there has been no response from the creators as yet. Leaving many of us wondering why this fantastic anime is not worthy of a second season and what else they could be working on instead. 
What Can We Expect The Plot To Be?
The first season of Kaichou wa Maid Sama ended with Misaki and Usui confessing to each other, they opened up and let the other person know exactly how they felt.
Misaki was afraid of her feelings and was confused about how she felt while Usui was scared of being rejected. 
The second season for this anime will stop where this one left off. If you look back at the manga after the events of the final episode of Maid Sama, you will get a pretty clear idea of where the story would go. 
There is a ton of source material to get through, so much that not all of it would be able to fit in a single season. But, we can hope that the main events and story would be adapted.
There are camping trips, school elections, conflict with Usio and a relapse with more love that would still need to be covered.
Much like the first season of Kaichou wa Maid Sama, season 2 will likely cover a mixture of all these things with an emphasis on the new romantic relationship between Misaki and Usui.
Why Is A Second Season Necessary?
If we are to get a second season for Maid Sama there are a ton of factors that might influence this decision. The profits made from the first season of this anime, profits from the source material, demand for the second season and plenty of other factors. 
In season 1 we see a lot of conflict from Misaki, who battles with the issues in her life while still keeping up her impenetrable facade at school and her cheerful face at work.
Usui starts seeing a different side of Misaki and is surprised that she was not afraid to be herself when he was around. Misaki was scared that he would tell everyone at her school about her embarrassing job at a maid café. 
But, she was not afraid of everyone knowing about her job. Instead, Misaki was ashamed of her reasons for working and did not want to explain to everyone why she needed the job.
She was after all, not just a student, Misaki was a student body president and had a position of power. 
But, Usui does not tell anybody about her secret, and she starts to trust him and shows her true face to him. Misaki does not have an easy time with men, the male figures in her life, like her father, left her and left very little room for trustworthiness.
Because of this little fact, we think that the second season of Kaichou wa Maid Sama could focus on her inner conflicts. Will Misaki be confident with Usui?
Will she get over the idea that men will betray her? Will Usui understand and support her despite this? 
There are quite literally, so many questions left unanswered. So, a second season   is very important for fans of the anime. 
How Has The Online Community Reacted To Maid Sama Season 2?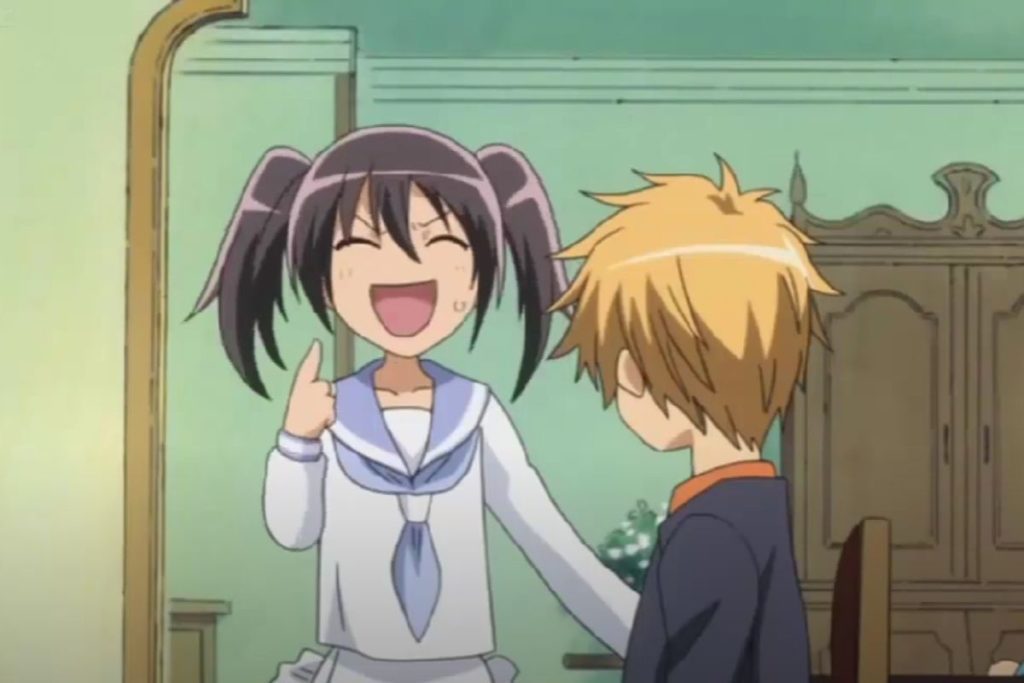 In today's day and age, with the ever-growing importance of the online community, it is critical to know how they react to certain things. For example, the second season of Kaichou wa Maid Sama…
So, let us see what you guys have to say about this prospect. 
Reddit: This social media platform painted a pretty clear picture of what the scenario was with Kaichou wa Maid Sama. Several comments spoke about two main factors. The manga was not finished, and there was not a large profit for the sales of the manga volumes.
Forbes Article: If you check out a Forbes article written in 2019, there are glowing comments on Kaichou wa Maid Sama and how it was actually one of the best anime of 2010. 
Quora: This website has some interesting posts concerning Maid Sama Season 2. For example, a post by Raúl Romero talked about the producers of the anime having to stop production after the sales of the manga dropped low. This is actually a true statement, as we will discuss later in more detail, the profits only allowed them to break even. While there was not a loss, the production company only managed to break even the return on the investment was sadly a little too low. 
Kaichou Wa Maid Sama – Ratings & Reviews
Another great way to gauge the success of an anime, move, or series is to check out the ratings and reviews. They can be a great way to understand how successful they were in their prime.
So, we will be taking a look at the IMDB, My Anime List, Anidb and Crunchyroll's ratings for Kaichou wa Maid Sama so that we can see how good it was according to the public. 
My Anime List: Overall the MAL community gave Maid Sama 8.05/10 rating.
Crunchyroll: Overall, most people gave Maid Sama a 5/5 rating. 
IMDB: Overall most people gave this anime an 8/10.
Anidb: Most people gave Kaichou wa Maid Sama a 7.15/10.
Many of the comments surrounding this anime are positive as well and others think that the message it sends should be taken with a pinch of salt. But, overall this anime was well received and highly humorous. 
Kaichou Wa Maid Sama – Profits & Sales
One of the most important factors that decides the success of an anime is the profit and sale margins. Sadly, this is the thing that motivates content creators to work. You wouldn't create a masterpiece for free, would you? 
But if the fan base's loyalty can be a factor that will convince them to work on a sequel. This is often attributed to the fact that making a second season would be received well, and the popularity would mean that a large profit can be made. 
Most typically the bulk of the profit comes front eh manga sales as opposed to the anime sales. This is because anime is used to advertise other things including the manga. 
So, let us take a look at the sales from copies of the  manga and DVDs or Blu-ray. 
Merch: The merchandise for this anime brought quite a lot of money. Some estimate that it brought in  between 60% and 70% of the profit. As with many animes or movies for that matter, a fair profit can be made by selling hoodies, badges, sweatshirts, pins, phone cases, digital prints and much more. Even today there are plenty of sales being made as many fans wait for a second season of Kaichou wa Maid Sama. 
DVD & Blu-ray: The profit made from selling DVDs and Blu-ray contributed between 15% and 20% of the profit revenue of the anime series and the manga. While that looks like a marginally low profit, if you understand that the point of the anime was to boost the sales for the manga it is actually a fairly large amount of money. 
Manga: There were 18 episodes for the Maid Sama manga and 4 or 5 of these chapters were adapted into season one of the anime. While this leaves enough material for a second season the anime also helped to boost the sales of the manga. Over 15,000 copies of the manga were sold and this is largely attributed to the hype that the anime helped create. 
What Was The Production Cost, And Was Maid Sama Successful?
There is not a lot of information concerning the production costs of Kaichou wa Maid Sama. But there are industry standards for the production of an anime series that we can use to estimate a ballpark.
On average, it would cost between 120 million and 140 million Yen to produce and broadcast an anime episode that is 30 minutes long. 
Converting this into US Dollars comes to around 12 million. But, each episode for Kaichou wa Maid Sama was around 24 minutes long. So this math is simply an estimation using an easy to round industry standard. 
Anyway, if we use this math we can calculate an approximate price for the creation of Kaichou wa Maid Sama.
This anime had 26 episodes and based on the 12 million sum we worked out earlier, it would cost about 324 million US Dollars to produce and air this anime. 
The anime itself would not make the most revenue and because of this the total profit Kaichou wa Maid Sama would make has to be dependent on everything under the brand. This includes manga, merchandise, DVD's and Blu-ray. 
Overall this anime was actually fairly successful, but was it successful enough to warrant a second season? We will have to see. 
Which Characters Would We See In Season 2?
So, if a second season of Maid Sama was to be announced, who can we expect to see? Let us take a look. 
Usui Takumi
Usui is a tall, handsome, smart, and popular boy at Misaki's high school. Despite being a brilliant student he does not take anything seriously and prefers to watch the world go by.
One day he stumbles on Misaki, the fearless and tyrannical class president working at a maid café, and he instantly falls in love with her.
Despite his best efforts, Misaki just tolerates him. Despite this he continues to try to win her affection despite her provoking him and calling him a 'perverted outer-space alien'. 
Regardless of the cross words and rudeness of Misaki he continues to pursue her and even offers her guidance when she needs it. 
There is never very much said about his past, the only thing we know is that he has an older brother. 
Misaki Ayuzawa
Misaki is the main character of this anime and is a new student at a high school which was recently only for boys.
She has never had a good relationship with men, her father leaving and the experiences Misaki has had with other male figures has left her having a distinct distrust for them.
In the anime we see that this mentalist has created a kind of resentment toward all men and boys.
Because of hardships in her home life, namely her mother falling ill, Misaki had to find work in order to provide for her sister and mother. She took on a job as a server at a Maid Café where she earns enough money for her whole family. 
Misaki is well versed in Aikido and shows the world a strong and independent woman. But after she wins the class president election she finds herself in a tough position.
She needs to save face and to maintain respect but also keep her home life and job a secret. 
This is made harder when a classmate named Usui sees her at the café. Misaki is initially scared that he would tell the entire school but when he keeps the secret the two of them slowly start to grow closer.
In the end Misaki and Usui fall in love and admit their feelings to each other which is where we see them at the end of season 1. 
Aoi Hyoudou
Aoi is a cross dresser, into fashion design and has interest in other typically feminine habits. While his father disapproves of his feminine proclivities Aoi is confident in himself and follows his heart.
But, he did have to leave home as a result of his father's insults and disapproval. 
He is kind of the go between of Usui and Misaki. On top of all that he is often a target of bullies and other awful people who do not like the fact that he is different. 
Hinata Shintani
Hinata is an old friend of Misaki, he always had a crush on her. Despite this he married Suzana Ayuzawa later on in the story. He is generally a cheerful, social yet naive person who was very determined to marry Misaki.
He was even jealous of Usui at one point. Hinata is very popular with his friends but still manages to look innocent. This character is a fun mix between assertive and innocent which is always fun to watch. 
Satsuki Hyoudou
This character is the owner of café Latte. She is middle-aged and can be easily identified by her maid uniform which is a little different from the rest.
Although she is Misaki's boss, Hinata is kind and understanding to Misaki. She tried her best to cheer Misaki up and has a soft spot for all her employees. 
Other Clues For A Second Season
While we have looked at a ton of factors that could indicate a second season for this anime there are a few that we have not mentioned.
Things like the ending of season 1, trailers and controversies are things that could impact the possibility of a second season for Maid Sama. 
So, let us take a look at some of these clues. 
Trailer 
At the time of writing this article, there has not been a trailer for season 2 of Kaichou wa Maid Sama. 
Controversy
This anime has received some negative reviews based on a few controversial ideas surrounding it. These are a few of those controversies:
Gender Roles: Some scenes in Maid Sama have been criticized for being sexist in the portrayal of gender roles. Some sequences were even called Shoujo, which is an anime that is typically aimed toward young girls. 
Characters: Some people thought that the characters were too talkative and criticized the anime based on this idea. 
Takumi did not Further the Plot: Some viewers thought that Takumi was not essential to the story and did not further the plot. 
Ending
One of the biggest tells that we got about a potential second season for Maid Sama was the ending of the first season. It did not end completely and left so much room for more drama and storytelling to happen.
The author of the story created mystery and suspense with the difference in background for Misaki and Usui.
While their personalities were vastly different, at the end of the first season when we see their confession, Misaki shows signs of hesitation while Usui is steadfast in his feelings.
Misaki had never had a strong relationship with any men in life and even though she felt something for Usui it was difficult for her to accept her own feelings.
Her relationship with men has not been positive and exploring this internal struggle would be a great starting point for the next season of Kaichou wa Maid Sama. 
Final Thoughts
Kaichou wa Maid Sama is a Rom-Com anime that is sure to make you laugh and cry at the same time.
The 'aww' moments are truly sweet and heart-warming while the comedic moments will have you laughing till you cry.
Overall, this anime has gained a large following and appreciation because of the story, realistic characters and generally fantastic storytelling. 
Making an audience sit through 26 episodes of unadulterated rom-com anime is a feat in itself. Best of all, they probably came away really loving Kaichou wa Maid Sama. 
While there is no official announcement for a second season you can still hold out hope, there are anime like Bleach that saw a long break before the final season was made.
So, keep wishing and dreaming dear fans, you never know when a second season might pop up. 
Latest posts by Grace Brown
(see all)